Would you love to immortalize that amazing view or skyline? Thanks to innovations in panoramic photography, capturing wide-angle landscape, cityscape, architecture, and real estate photography is made even more accessible. Here are the best panorama maker softwares for you to choose from.
Panorama Photography
Panoramas are wide horizontal images that are most widely used in landscape photography. They're a great way to incorporate stimulating visual data into one photo. Panoramic photography is often quite dramatic and majestic!
Thanks to modern technology, many smartphones and cameras come with an automatic panorama setting – simply pan the camera to capture the view, and you'll get a stitched photo! While this automatic panorama setting is convenient, the results can be underwhelming. You'll usually end up with low resolution and warped images because of the lack of user control.
With the help of panorama makers, hobbyists and professional photographers alike can get quality results! A panorama picture maker can range from professional software with dedicated features to a basic and lightweight mobile and online panorama maker.
Best Panorama Maker Softwares
While it's true that the best panoramic software won't come free, let's face the fact that not everyone can subscribe for paid applications! Most free panoramic software comes with limited features, but they can be sufficient for hobbyists and beginner photographers. We compiled a list of the most trustworthy and reliable free and paid online panorama makers.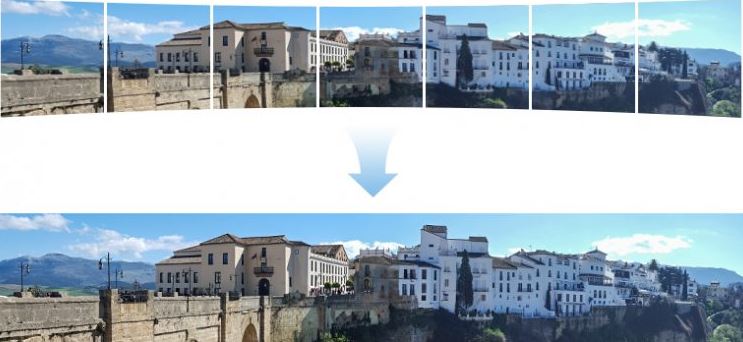 Microsoft ICE
Microsoft Image Composite Editor (ICE) is one of Microsoft Imaging Lab's most powerful innovations. Users will love the unique features of Microsoft ICE!
Video enthusiasts will be excited to hear about Microsoft ICE's video pan feature – easily generate a still panoramic image from a captured video! The application also has useful compositing features that will generate high-resolution output. We find the automatic image completion incredibly useful for creating seamless photos with missing pixels at the edges.
While this free panorama maker is only available on Windows, it offers a wide range of output formats: JPEG, PNG, TIFF, PSD, and BMP. ICE is highly flexible with its gigapixel panorama support. Users can also get a detailed full-resolution preview of images before exporting.
AutoStitch
Are you looking for intelligent software that will do the work for you? The AutoStitch application will do just that – it works with a SIFT algorithm that automatically matches and orders images to create a seamless panorama.
AutoStitch is an incredibly straightforward program that's great for beginners who aren't confident with tweaking features. The software is available both on Mac and Windows.
Though Autostitch is simple, it doesn't downplay quality. Sharpness and exposure of Autostitch features are widely complimented.
Hugin
Hugin is a cross-platform tool under Panorama Tools. Though quite basic, newer versions of the software offer sophisticated features like adjusting control points and projection.
What we love about Hugin is that it's free, straightforward, and functional. Versions are available on Windows, Mac, and Linux, providing ultimate versatility.
Users will also love that Hugin can successfully stitch images from different lenses and with different exposure settings.
Panorama Stitcher Mini
Panorama Stitcher Mini is a powerful panorama maker application available for Mac users. This free software comes with superior features that are hard to find in commercially available panorama makers.
This software uses an innovative algorithm that successfully stitches and aligns up to five source photos. Photographers will appreciate the convenient features of automatic cropping, lens shading correction, exposure leveling, and color handling. The software is also intelligent enough to support spherical and planar stitching.
The software also features a user-friendly interface that makes photo manipulation easy, even for most beginner photographers. Export is made easy with JPG, PNG, and TIFF formats.
PTGUI Pro
You won't go wrong with this highly reliable panorama maker. PTGui is one of the most popular and user-friendly panoramic stitching software available to photographers.
The software supports different types of cameras and lenses. The application automatically detects the type of camera and lens used – PTGui will calibrate the settings accordingly.
Users will also love that PTGui works on smart technology that features a wide range of capabilities. The pro version supports exposure adjustment as well as HDR blending options for optimal user-control. It's also easy to adjust sharpness, blending, projection, center, and rotation for a seamless photo. Removing unwanted elements and adjusting control points is convenient with PTGui.
We love that the application can deal with a large gigapixel panorama in about 20 seconds! If you're serious about panorama photography, PTGui Pro should definitely be one of your top choices!

GigaPan Stitch
Many photographers who are serious about panoramic photography most likely have invested in GigaPan technology. GigaPan specializes in capturing remarkably crisp gigapixel panoramas – large digital images containing billions of pixels! Gigapan created a panorama stitcher software, GigaPan Stitch, to conveniently manipulate panoramas captured with GigaPan technology.
The GigaPan Stitch is one of the easiest and simplest software for panoramic stitching. You don't have to worry about quality since the final results often align quite nicely. Beginner GigaPan panorama photographers looking for a straightforward and free panorama maker can opt for the GigaPan stitch. While there aren't as many features, the final product is often as impressive as expensive software on the market.
If you find the GigaPan Stitch to be lacking, Hugin or PTGui Pro are your next best options!
PhotoStitcher
Beginner photographers looking for a simple panorama software can go with the PhotoStitcher application. The software is guaranteed to be user-friendly, coupled with a wide array of features that make software editing simple and seamless.
PhotoStitcher offers convenient automatic stitching of images with different resolutions and angles. Automatic exposure blending, automatic cropping, and the intuitive interface make this the perfect choice for beginners. PhotoStitcher guarantees that the product is completely non-technical – excellent for amateur photo editors!
Users can also choose from a wide variety of projections, and it also supports images grom different from different formats.
Affinity Photo
Affinity Photo is increasingly gaining popularity among professional photographers as the choice photo editing software. Affinity Photo is sophisticated and sleek – not to mention it's a lot more affordable than Adobe Photoshop! Affinity Photo enthusiasts are in for a real treat as the app has a powerful built-in Stitch Panorama feature!
The software allows users to achieve a seamless panorama thanks to its masking and transforming techniques which can be applied before cropping and inpainting.
Lightroom Classic
Loyal users of the Lightroom Classic will be happy to hear that the software already comes with a highly dependable panorama stitcher. While features aren't as comprehensive as dedicated panorama makers, users are guaranteed excellent results each time!
Over the years, Lightroom has been developing the panorama stitching feature to appeal to the needs of photographers around the world. The most beloved and valuable features of Lightroom panorama stitching are content-aware and HDR processing.
This option is an excellent and accessible choice for photographers who work on multiple types of image editing.
Adobe Photoshop
We can't end this list without including the cream of the crop in image editing – Adobe Photoshop. Users can easily install the panorama stitching feature into the program as a reliable and powerful option.
Photoshop's panoramic stitch feature, Photo Merge, works similarly to Lightroom's panorama editor. We are fans of the content aware option – believe us when we say it'll make your life easier! Between Lightroom and Adobe Photoshop, the best choice will be to install the feature into a program that you're already working with.
Conclusion
Are you a photographer interested in capturing stunning panoramas? The best panoramic software for you is a program that suits your specific needs! If you're an amateur photographer looking for basic features, go with Hugin, ICE, or Panorama Stitcher Mini. Professional photographers can go with a program that offers more user control, like the PTGui Pro. Panoramic stitchers in dependable editing software like Lightroom, Photoshop, and Affinity Photo are also guaranteed to provide excellent results.
Panorama real estate photos can be very majestic with the right editing technique. We at Homiesfoto have years of experience with real estate photo editing. Try us out and you'll be glad you did.