As a professional photographer, your camera must be superior to the competition to create amazing photos. However, it does not have to be the most expensive one if you know how to tinker with the lighting because that greatly affects your output. Natural and supplementary lights are important, so you must know how to choose and use the right flash for real estate photography.
If you are not yet very confident about your skills in blending natural light with your camera's built-in flash, using an external flash is the way to go. When needed, it gives additional brightness, giving your photos lighter and looking more professional. If you are in search of a flash for your real estate photography, we have compiled several options you can choose from.
Features to Look For in a Flash for Real Estate Photography
You need to consider four main things when determining what sort of camera flash is good for real estate photography. You need to carefully factor them in to not end up with one that won't be useful for your business. Let us look at them one by one.
Compatibility
If you use more than one camera for your real estate photography business, it would be more cost-effective if the flash you will use is compatible with all of them. It will not only save money, but it is also more convenient since you only need to keep one additional tool at hand during a shoot.
Recycling Speed
After being fired, the time it takes for the flash to gain full power is what we refer to as recycling speed. The faster it takes to do this, the quicker you will take shots, which adds to your efficiency.
Flash Zoom
You must be precise with what you capture whenever you are taking photos. Thus, the flash zoom is a crucial consideration when deciding which flash to buy. It refers to the area a flash covers when doing a photo shoot. The flash zoom must have accurate settings so that you can better manipulate how to frame your subject.
On-cam or off-cam
It would be best to decide whether you are going for an on-cam or an off-cam flash. It all boils down to preference when it comes to this. Some are more convenient using the former, which may or may not be connected to the camera, while an off-camera flash is not connected and may be wired or otherwise.
Top Choices for Real Estate Photography Flash
Now that we know some of the basic considerations you may want to look for let us review some off-cam and on-cam flashes that you can choose from.
Yongnuo YN560 IV is a highly recommended on-camera flash for real estate photography. Many real estate photographers choose this because it is powerful, versatile, affordable, and fully manual control. Most of all, it is compatible with most cameras. Thus it can work with multiple gadgets.
Moreover, its flash zoom range of 24 mm to 105mm is ideal for capturing wide areas without moving around. It has an impressive recycle rate at 3 seconds so that you can take a lot of property photos in no time. It also has strong flash output controls numbered 190' for 105mm at ISO 100.
On the flip side, we didn't like that it is purely manual, the controls may be quite confusing, so it is not ideal for beginners, and it has no auto-zoom for the sensor size.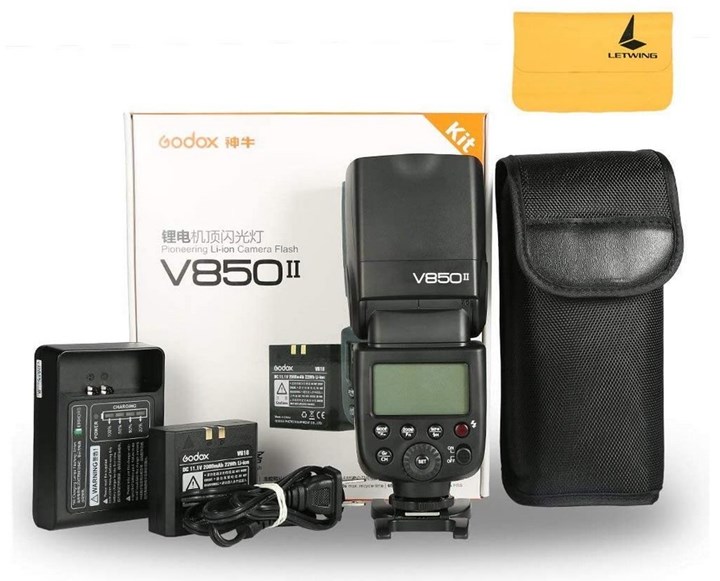 If you are a beginner in need of an on-camera flash setup for real estate photography, Godox V850II might be the one you are looking for. It is very versatile, has great build quality, and is user-friendly. It uses simple commands on its LCD and control panel and is compatible with most popular brands.
Godox V850II has a recycling time of 1.5 seconds, a guide number of 197' at ISO 100 and 200mm, and comes with an adjustable 20mm to 200mm zoom. Its high-speed sync and long battery life make it an excellent choice.
Godox is a brand known for producing great items, so you will be more confident going for it. That is also why it comes at a higher price than most of the options in this list. Another con is its poor navigation menu.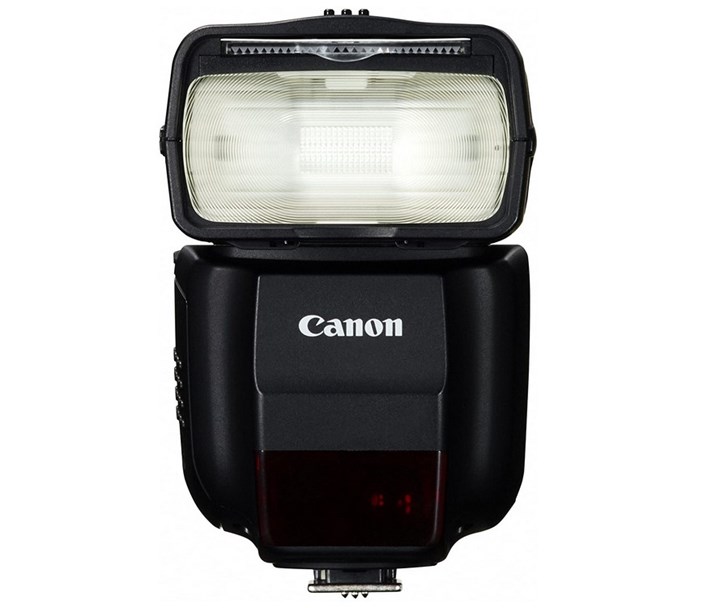 The Canon Speedlite 430EX III-RT flash is a very flexible tool. It could be the best external flash for real estate photography. It allows 90 degrees vertical spin and 330 degrees horizontal spin, which allows you to capture every angle of the property you are shooting. What is fascinating is that this can be done with a simple push of a button.
You can take perfectly lit pictures without too much adjustment with its Through the Lens (TTL) function. It has both TTL and manual modes, so you can switch whenever necessary. When used with a Canon camera, it automatically adjusts the lens's flash and focal length.
Speedlite 430EX III-RT's zoom flash covers 24-105mm range. It has a maximum guide number of 141ft./43m at ISO 100. It has a compact body for portability and style.
We can say as its weakness is that when used with a non-Canon camera, you need to set the focal size manually. It also has no weather sealing and has a limited zoom range.
Another beginner's choice is Neewer 750 II. It may not be the best flash for indoor real estate photography, but it will work if you are just getting started and you are not sure if you want to commit to an on-cam flash fully or not.
Having said that, among its pros are its being user-friendly, a great beginner choice, and being very affordable. On the other hand, it is something you need to upgrade eventually should you finally decide to stick to on-cam flash.
Now, if you want to know what sort of off-camera flash is good for real estate photography, then begin by considering Godox AD200 Pro. It is considered the standard for most real estate photographers and is deserving to get that accolade.
It is a very powerful off-cam flash with a great compact design. It is light enough to handhold, and it is an excellent tool for almost any shoot, whether indoor, outdoor, or all the other areas in between. It also has a very minimal issue on its on/off switch, but generally, it is great value for money.
If you are serious about real estate photography and money is not an issue, then go for Profoto 901025 D1 Air 1000. With this off-cam flash, you will not ask for anything else. It is an all-in-one type that you can use in any situation.
This Profoto flash is high-quality and equipped with a powerful flash zoom that can cover very large spaces. It may be quite large and heavy when handheld, but with its outstanding features, you can be very confident about your output and will give your portfolio a great boost.
Recommendations when using flash for real estate photography
When using a flash for indoor real estate photography, you must purchase the one that will work best with the type of photographer you are. Each artist has a unique style, and the more you do photography, the more you will realize which type you are.
You can start by evaluating which you like working better: an on-cam or an off-camera flash. You may also want to search for the best flash diffuser for real estate photography to go with it to enhance your output further.
If you are more of an on-cam artist, the Yongnuo YN560 IV is the way to go. But if you prefer off-cam flashes, choose Godox AD200 Pro, or if you have money to burn, buy the Profoto 901025 D1 Air 1000. Again, the main issue for the latter is its heaviness, but if that doesn't bother you, we suggest you go for it as it is truly the best on the list when it comes to functions.
Conclusion
Real estate photography is a budding business, and competition abounds in this market. If you want your photos to stand out, you better invest in additional tools. Indeed, a flash may not always be necessary, but only if you are highly trained with different types of lighting. Otherwise, you need help from an external flash.
There are many brands and types of flashes to choose from. But if you are just getting started on this trade, the list above will be a great place to start. Check out the considerations in choosing the flash you need and go through the list we provided. Whether off-cam or on-cam flash, we have narrowed down the choices to help you pick among the best.
Pick among the choices we have shared above, and let us know what you think. We hope that we were able to help you get started on your real estate photography.
The other piece of the puzzle is the editing part, it has the potential to bring out the best of the photos. The expert real estate photo editor at Homiesfoto guarantee to take your already good photos to the next level. Try us out, we do free test edits.