The dining room is one of the most important places at home. It is where you fill your stomach with food and your heart with fellowships. The dining table is central to this area. It is, therefore, very crucial that it looks inviting and comfortable. So, it would be best if you made an extra effort to achieve that.
Whether it is a new home you are decorating, or you want to flìp your dining table's design, or if you do it for home staging, here are some tips to help you get started.
Based on three simple elements, you can achieve that warm dining table set up everyone would love hanging out in.
Staging a dining table
There are many ways to stage your dining table, but here are three simple things you can start with.
Varying heights
It will look lovely to have accessories of different heights, grace your dining table. It creates a visual rhythm. You may use a set of vases of varying sizes and symmetry. You may also use just a tall one to be the focal point of your design.
Do not fear experimenting with colors. A useful guide in choosing which ones to use is to go with the palate present in your space. It may be a piece of artwork or just an accent.
Some pieces you can work with, which have different heights and textures, are vases, as was mentioned earlier, a stack of books, tiny round candles, and small decorative arts.
You don't need to buy these things. Look around the house and see what's available and be creative with them.
Add some greens
The color green exudes a refreshing and lively feel to your dining table. So, add some greens! Not just the accessories, but if you can include indoor greeneries, it would be amazing!
Add life to your vases by filling them with your favorite foliages. It would be best to pick those varieties that can last for weeks, for less maintenance. Some examples are proteas, banksias, and spinning gum.
You can add as much or as little as you want. It would depend on how the plants would blend well with the other accessories you already have on your table.
The key is to keep it balanced. If you have a more oversized table, you may add bushier ones, but pick something that will blend well for the tinier ones.
Keep it odd
They say three is a crowd, but in designing a dining table, it is perfect. It is not to say that you should limit your elements to three things. You can add more. However, it is the starting point, especially for smaller tables.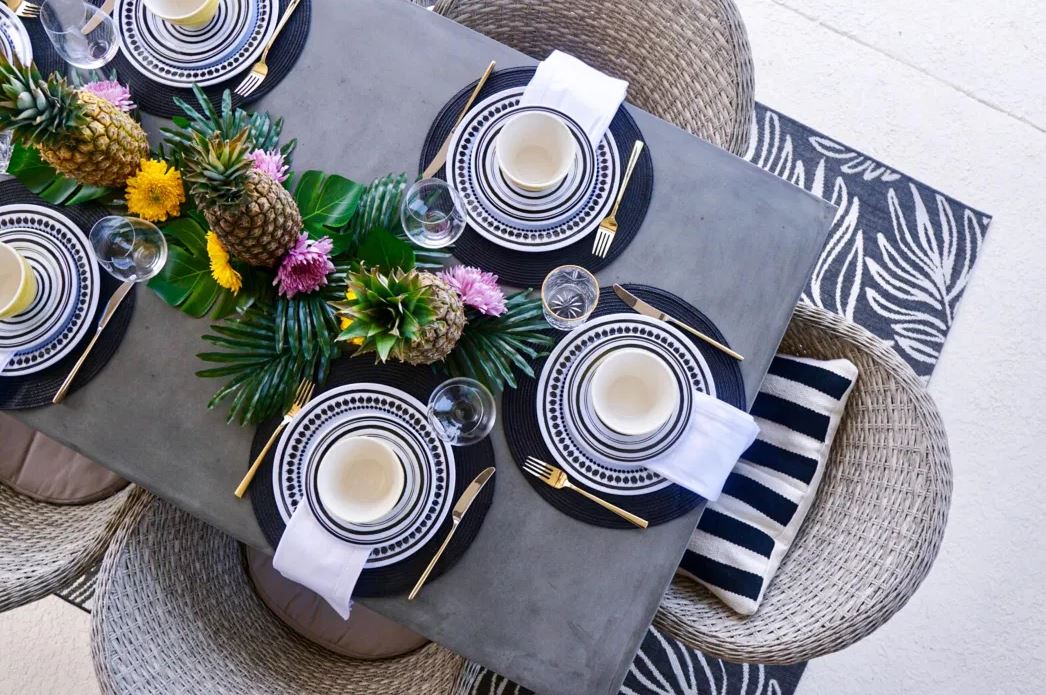 Use a cluster of three accessories for a more significant impact. If you have a very tiny space to work with, one centerpiece would be best. For more spacious ones, go for five, and so on. There is something about odd numbers that make for great visual appeal.
For more extended tables, you may have two or more setup equidistant to each other. That will prevent crowding at the center and give life to different spaces.
Quick tips to keep in mind
Now that you know the three main elements to consider in staging a dining room table let me give you some quick tips to remember when undergoing this endeavor.
Table size. No matter how good the setup looks, if your table looks off in your dining room, it will be a total eyesore. Choose a dining table that will fit precisely in your space, with enough room for movement and decorations.
Table settings. You may see that this looks good in restaurants, but if your purpose is for a homey setup, ditch the formalities. Save it for formal occasions.
Overcrowding. You have to make sure that your dining table has just enough chairs around to seat people comfortably. Do not fill in every space, as this will make it look bulky and will only make your dining guests feel awkward sitting too close to one another.
Blend it in. Whether it is for your own home or the purpose of commercial staging, your dining table must be able to complement the room it is in. Especially in staging, you have to show how it blends perfectly with the entire home to attract your prospects to buy. The flow from one room to the next must be smooth enough to create a stable ambiance around the house.
Find inspiration. If you are stuck, try looking for ideas from people who do it well. That will help you out to pique these people's techniques that you may apply to your designs. Pinterest is a great place to search if you need to go this path.
Cost-efficient. Dining tables set up for staging must have elements that fit the target market's budget. Even for home decorating purposes, it must be complementary with all the other furniture pieces around it. Do not try to impress by using very fancy things that might be over and beyond your prospect's spending limits.
Mats and cloth. Bare tables do not look very appealing. Use table cloths if you are not showcasing the intricacies of the table itself. Use placemats to highlight the plate and cutleries. Ensure that your chosen design will blend well and not overbearing as the purpose is to highlight the pieces set up on top of them.
Matching pieces. If you are preparing a formal dining table setup, you must ensure that the plates, soup, bowl, forks, spoon, knives, and all else needed match. Even if you have the best of each kind, it is not visually attractive to have different pieces together.
Stack up. Now, for a simple setup, or even at home, you may consider just stacking up the plates, utensils, and glasses at the center of the dining table. It will have the illusion that you are starting a meal. Make sure that they are appropriately positioned so that it will not look cluttered.
Do not overdo. You may have many ideas going on in your mind, but do your best not to bring them all out in just one set up. In the end, being minimalist is still better because an overcrowded dining table is not nearly as inviting. Do away with gimmicks. Just keep it elegant and realistic.
Conclusion
Designing your dining table, whether for personal purposes or home exhibit, is both fun and challenging. There are so many ideas that could pop out of your mind, but not all of them would work.
If you want help in getting it done, follow the above guides and tips. These are very straightforward rules that, when done, will help you come out with excellent output
There's another way to have a beautiful dining table for photos with much less hassle: Using our virtual staging service