Have you been considering a career in real estate photography? Whether you are currently a hobbyist, a professional, or without related experience, we have the information you are seeking here to hit the ground running. We will walk you through the steps on how to start a real estate photography business, learning the tools and tricks of the trade, landing your first client, the whole nine yards.
Overview
Real estate is one of the industries that continue to rely on visuals to sell properties to prospective clients. As the market is on the upswing once again, so is the demand of realtors for photography. After all, this is the first thing that buyers will look for when they contact their broker before an actual ocular of the property. Nowadays, they can even have a better feel for the house without leaving the comfort of their couch by viewing pictures online. The more photos people can see, the more chances of the property being picked up in no time.
Why do they hire a real estate photographer?
The answer is simple: realtors see the value of high quality images in attracting clients and influencing them to make a buying decision. While practically anybody can take real estate pictures themselves, not everyone can deliver them the way a pro can. In fact, there was a study indicating that property listings which have professionally snapped images don't stay too long on the market compared to other properties.
As a real estate photographer, you should be able to highlight the property's selling points by shooting the right angles, using good lighting, playing up the features, among other things. Such elements may even contribute to a more profitable transaction for the seller. They are able to have a higher ask for a property on top of increased number of views of the web listing and enhanced sales for higher-priced homes.
Why should you consider a career in real estate photography?
Taking pictures, in general, maybe as easy as pie, but capturing the essence of a property is no walk in the park. But if you can do it, and you do it well, it can be financially rewarding. While you may earn a few hundred dollars per project or through an agency in the beginning, which is good if it's supplemental income, you can make more money despite the competitive environment. This will depend on your skills, experience, and additional services you may offer, such as video creation, aerial shoots, virtual staging, 3D photo tours, etc.
In any case, the beauty of this job is its less complicated and more flexible nature. You don't have to deal with the demanding buyers and just focus on getting great images to put out there. And more importantly, you don't have to limit your photography skills to real estate, especially when you're a freelancer. You can evolve with your camera by dabbling in other niche industries like architectural photography, stock photography, etc., which will be in a similar realm as real estate photography.
The photography part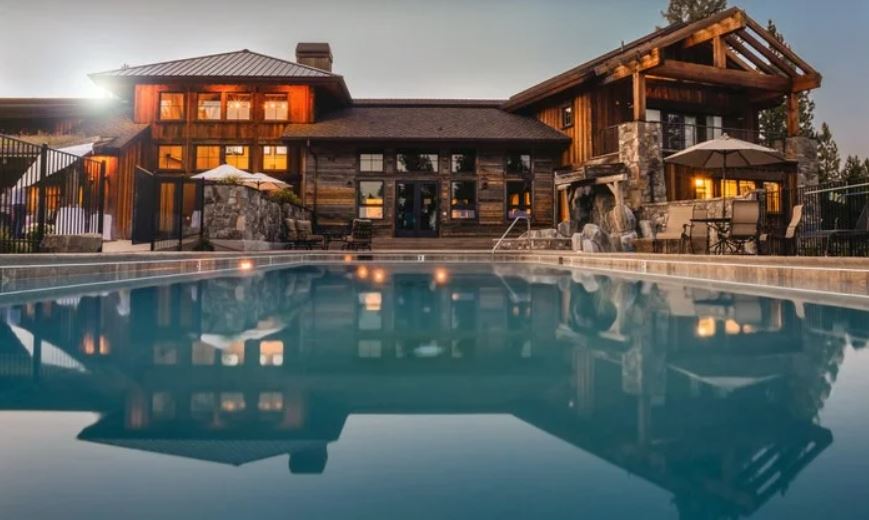 1. Learn the basics
Know your subject
There are several things you'll need to know about how to start a career in real estate photography business. First is to be aware of the real estate elements by starting with your own home. Generally, you have the property's interior and exterior to work with. Take multiple shots of your front yard, living room, kitchen, bathroom, to name a few. See how they register in the pictures. Use the internet to acquire ideas and inspiration so you can familiarize yourself with camera angles used in the examples. Discover trends and methodologies employed on them. Eventually, knowing what will look great will be a skill that comes naturally to you.
Have good lighting
This could be a sweeping rule for any kind of photography. If you have to choose between good composition and good lighting, you're better off with having the latter. As such, you would have to turn on the lights for interior shots or adjust your camera exposure and separate lighting paraphernalia. Weather also contributes to the look such that a cloudy day may not produce the best exterior images. Either you shoot at twilight or when the sun is not hitting your image directly.
For interiors, you will also want to make use of natural light by opening all the windows to let the sun rays in. They will make for saturated shadows and vivid images. You may even use LED panels and reflectors to magnify them in order to exaggerate the smaller details.
The money shots
Basically, there are 3 perspectives you will typically come up with when shooting real estate. Wide-angle shots will dominate a realtor's listings. These show the entirety of the space while giving it context and depth. There are medium shots where you highlight particular spots in the property. For instance, you'll focus on the coffee table nook showing the window behind and some decor in the background. Lastly, you have the detail shots which are the zoomed-in objects which you would like to emphasize. As they say, the devil is in the details. This type of shot tickles the imagination of the viewer by allowing them to visualize the surrounding space based on the focal subject.
Chat with a realtor
It may also help if you get to talk to a real estate agent to learn some of their basics which you can apply to the way you execute your shots. You can ask them which property features they often require for their listings, etc. You can also view samples of property listings online to check what your competition is currently producing, which might inspire you to come up with something on par if not, better than theirs.
Watch your angles
Real estate photography puts a lot of importance on camera height and verticals. Shooting the interiors would involve preserving the vertical appearance of door frames, walls, windows, among other things. This can be affected by the tilting of your camera with a wide-angle lens such that their vertical edges may not appear as straight as they should be.
2. Get the right gear
The gear basics will include a camera, lens, and a tripod. For the camera, here are some suggestions:
Canon EF-S Mount camera
Canon RF Mount mirrorless camera
Canon EF Mount DSLR
Nikon FX Format DSLR
Nikon DX Format DSLR
Nikon Z Mount camera
Sony Full Frame mirrorless camera
Sony APS-C mirrorless camera
Fuji X-Mount camera
Your camera should be able to shoot manually with a full-frame or crop sensor, which a DSLR or mirrorless camera would have. Of course, you should also have a flash, a cable release, wireless triggers, and different lenses.
Flash is a common feature in cameras because they are highly important for places with low light. A wide-angle lens is ideal for real estate images that offer versatility in tight spaces. Its optics will provide a more spacious appearance.
A focal length that starts at 24mm will be suitable for average-sized spaces. It is the optical distance of the converging point of light rays to the digital sensor. This is where an image will appear at its sharpest. Hence, for tight shots, you would require a minimum of 35mm while a lens that is anywhere from 14mm to 16mm is recommended for bathrooms or any small space. To avoid messing up your verticals, a tilt-shift lens can help keep doors and ceilings from skewing. However, this might be a pricey option.
When you use a 35mm lens, that is exactly the size of a full-frame sensor. But anything smaller than that will cover a portion of the circle given the rectangle shape of each image capture. Depending on your lens, there is an applicable multiplier to arrive at the corresponding field of view.
For long exposures, you'll get a lot of good use from a tripod which stabilizes your camera such that there will be no motion blurring on the images. You also get to retain your shot perspective so that all your pictures will come out with the same height.
3. Practice
If you've reached this point, you must be bent on learning how to start a real estate photography business. There is no better place to practice your real estate photography skills than on your own property. First and foremost, you will have no pressure to finish within a specified time. You can keep on taking pictures over and over until they meet "professional standards" as you see them.
You can move on to your friend's house to get out of your comfort zone. Challenge yourself and see if your pictures will compliment if not improve a rather ordinary space. For example, fixing the couch pillows by propping them up can instantly do wonders, resulting in an inviting atmosphere when captured by the camera.
Another thing to note when taking pictures is to know how to frame them. These will balance your composition in order to create a cohesive theme. Thus, you can't just take one picture after another, then choose whatever looks good and throw them into the listing. Think of it as putting together several pieces of the puzzle to form a bigger picture. The goal is to capture the features that make the place unique and beautiful while reflecting a particular lifestyle based on the realtor's target market.
4. Build a portfolio
After your practice runs, it's time to build your initial portfolio. It may not be an actual property listing, but treat it like one because this is crucial in selling your services to realtors. You may choose to use your house or your friend's and exploit the outstanding characteristics of the property.
Decluttering is one way to prep the space. You're shooting a bedroom and while we all know it's not in a pristine condition when it is lived in, we don't want to show the scattered clothing or personal effects in real estate photography. These items take away from the real focus which should be on the property. You want prospective buyers to envision themselves in the house so you would want to stage it at the same time. Make it look nice without resorting to deception. Decorating the space will help bring out the beauty and potential of the property.
Lighting as mentioned is crucial in real estate photography. It will always depend on the size and shape of the area. Once you're done with the pictures, feel free to perform post-processing manipulation in editing software such as Photoshop and Lightroom. You may need to finetune your shots by correcting any distortion, lighting issues, and other adjustments as you see fit.
5. Perfect your editing
Photography is only half of the story. For your photos to look stunning, good editing is a must. If you don't know how to edit properly, online courses are a good start.
Another option is to outsource editing. Real estate photo editing is a daunting task for beginners and can take a lot of time to learn. You can consider hiring an expert with years of experience to do the heavy lifting. Here at Homiesfoto, we edit for hundreds of real estate photography businesses, transforming their work into masterpieces that amaze even the most demanding realtors. Try us out, you'll see what we're capable of.
Planning for a real estate photography business
1. Expenses
Here are the main expenses to account for when starting a real estate photography business:
Website ($100 - $1000 annually)
Accounting (Up to $300 annually)
Editing (Cost little if you edit your own photos but this takes a lot of time. Outsourcing cost is usual $0,7 - $1 per final photo)
Insurance
Traveling expense
Marketing expense
2. Look for clients
After you have compiled your preliminary set of real estate photos, it's time to make those calls. You can start announcing your presence by getting referrals, cold-calling realtors, or using social media while showing your work. This can be a trying endeavor for a rookie real estate photographer.
Being a new kid on the block, you might have to consider working at a lower price to reel in clients. Or offer a free trial if you can. It usually takes just one person to entrust you with their creative marketing to open the floodgates for you. However, it should be clear to the client that only the first batch or first few shots will be provided at no cost, while the succeeding requirement will be charged accordingly.
3. Pricing your services
While you may be new in this industry, make sure you have a game plan. You can ask around for a comparative analysis of real estate photography rates made by experienced professionals. Rule of thumb dictates that you go in charging a lower price, somewhat undercutting the competition. At the same time, you should assure your clients that they can get more value for what they pay you with outstanding work, which is usually turned in by more seasoned yet expensive photographers.
When preparing your price quotation for a project, you should factor in both the cost and time involved. In this endeavor, you may need to hire additional equipment, transportation allowance, and account for the man-hours to be spent snapping the photos, editing them, and submitting them within the set deadline. Once your client accepts your proposal, there should be a signed contract between the two parties for a legally binding transaction.
4. How much to charge for real estate photography service?
A shoot usually costs anywhere from $80 to $500, depending on the size of the property, realtor's requirements and location.
5. How much does a real estate photography business make?
Real estate photography businesses are reported to make $50,000 to $90,000 per year. The profit grows exponentially the more realtors and freelancing photographers you work with.
6. Ways to increase profit
Expanding your service to include restaurants, hotels, clubs, resorts,...
Teach photography online and offline
Joining realtor communities, building rapport
Joining photography communities, building connections, for example, Real Estate Photographers of America and International
7. Other mandatory tasks
Choose a name
Register a legal entity
Register for taxes
Open a business bank account
Setup accounting
Register necessary licenses
Prepare a contract template
Get insurance
Create a website
Setup a phone system
Here's a story on how Mile High Productions started their photography business.
Conclusion
We hope that you find our discussion on how to start a career in real estate photography business useful for your future plans to engage in this profession. This industry can provide a decent income for those with a passion for shooting beautiful houses and structures.
No matter how good you become at this job, the learnings never stop, and the road to success may be a gradual process. But remember that even the best in the field should not be complacent with their skills. Always review your work and compare them to the ones done by other real estate photographers. See if there may have been shortcomings along the way which you can prevent in future projects. For the most part, clients will give you creative freedom because they trust that you will give them what they want and more. Ultimately, you will see progress in your career, which will provide you with a sense of fulfillment and financial profitability.