Find out what gears are actually needed for real estate photography.
Getting all the latest real estate photography equipment can be both fun and intimidating. It's exciting, because who doesn't want to get new stuff? But, because there is such a wide array of options out there, it becomes challenging and almost impossible to pick the best ones.
But, truth be told, the success of your career has little to do with how expensive and high-tech real estate photography. Ask the pros and they'll tell you the same thing. More important than any gizmo is your talent, passion, and willingness to learn.
Think about it: there is and will always be new real estate photography equipment coming out in the market. Brands introduce the latest "must-haves" almost every quarter! If you keep giving in to these crazy marketing ploys, you're sure to put a hole in your pocket.
The key to getting the best gadgets for you is to research it. That's it — plain and simple. Then, once you finally decide on a product, stick to it! Should you want to get a new one, you can always sell or trade the one you have.
As a budding real estate photographer, take comfort in knowing that you can be successful without all the fancy equipment. As a matter of fact, well-known photographer Wayne Capili shares that all his stuff adds up to just $1000. Even then, he is still regarded as one of the top photographers today.
If you need help in identifying exactly the equipment needed for real estate photography, you have come to the right place. Here's a roundup of the 10 essential equipment for every photographer. This list is based on three factors: quality, cost, and durability over time.
Sure, these things will cost you more than a thousand bucks total, but these guys are tried and tested, and are guaranteed to serve you for many years.
Not only are these essentials durable, but their functions and features are also timeless. Meaning, if you buy it today, you will still have great use for it long-term.
If you are not certain about taking real estate photography seriously, you can always start with an entry-level camera. It's ten times cheaper and will help you learn the basics of photography.
But, if you are keen on making a whole career out of this, an entry-level camera is just a waste of money. I am 95% sure you will just end up replacing it after a few months or so. I myself ended up getting a full-frame-bodied camera after just a month!
To be clear, you don't necessarily need a full-frame body for real estate photography, but it is perfect for big-time engagements. You never know when these opportunities arise, but you definitely want to be ready for them! Trust me, you'll regret not being equipped with the right cameras when you are offered a major gig. Imagine having to decline just because you're not prepared!
So, without further ado, here are the top 10 equipment needed for real estate photography.
The Only 10 Real Estate Photography Equipment You Will Ever Need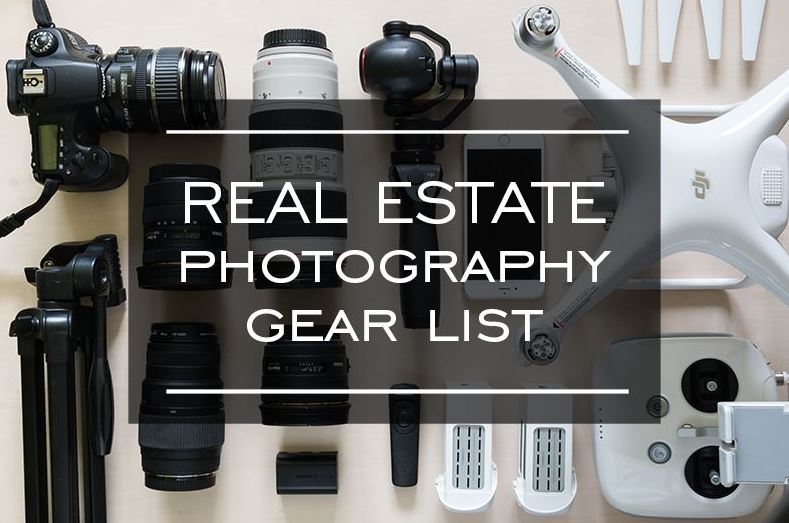 1. A Camera with a Mid-Range Body
When dealing with good lighting and composition, the last thing you need to worry about is the camera's body. As such, lighting equipment for real estate photography does not have to be expensive.
These full-frame bodies make excellent options. They are both mid-range and full-featured, and are relatively affordable. And the best part is, you can use these for years to come, so replacement won't be necessary.
Just remember that the moment you buy a camera body — that's it. You'll need to invest in that particular brand and system moving forward.
Major brands have their own advantages and disadvantages based on specs, accessories, lenses, and customer service. Before picking one, it's important to weigh these pros and cons.
- This camera comes with a tilting screen that's ideal for photographing tight spaces. It's perfect for shooting bathrooms and other small areas. If you have chronic back problems, this feature comes really handy.
- The Nikon D750 also has a built-in Wi-Fi. Thanks to this feature, you might not even need a cam ranger. Considering that this equipment is priced at $300, you're making a huge saving.
- Viewfinder coverage is 100%
- Comes with a multi-angled touchscreen LCD. This means it has more tilt than the D750. And since it's touchscreen, you can adjust the settings with just one hand.
- It has built-in Wi-Fi, Bluetooth, and GPS
- It has a relatively wider ISO range.
- Its processor and resolution are also better than the D750.
- Comes with a 42-megapixel sensor for medium-format resolution.
- High video quality, which is perfect for clients who are interested in both stills and videography services.
- Sony, as a brand, is quickly emerging as a top brand that rivals Canon and Nikon.
2. Get a Wide-Angle Zoom Lens
This is one of the most critical items in your real estate photography equipment. However, take note that you don't have to invest in the best, most expensive one yet, especially when you're just starting out.
Consider the size of your photos and where they will likely appear. More often than not, your photos will be featured in the realtor's social media platforms at a low or medium resolution. Or, if the photos will be printed out, they'll likely be thumbnail-sized.
With that said, you'll want to get a sharp lens with a wide-angle and minimal distortion. Wide-angle because you want sufficient interior coverage. The zoom function is useful for versatility and variance. This lens will let you showcase both small and large spaces without the images being distorted.
I've scoured a ton of lenses out there, and below are my top recommendations for beginners. Good news: these lenses are very affordable while also making a great first impression.
For Nikon Cameras
Tokina 17-35mm f/4 Pro FX - Nikon mount
This lens is both excellent in quality and affordability.
Tamron SP 15-30mm f/2.8 Di VC USD
This lens is even better than the original Nikkor lens.
Nikon AF-S FX NIKKOR 16-35mm f/4G ED VR
More affordable option than the Tamron, but not that fast. Not an issue though, especially if you're using a tripod.
For Canon Cameras
Tokina 17-35mm f/4 Pro FX - Canon Mount
Tamron SP 15-30mm f/2.8 Di VC USD - Canon Mount
This lens has impressive optical quality and focal range considering its price.
For Sony Cameras
As I've said, once you've chosen a camera body, you're stuck with that brand's system. Sadly, Sony currently has limited options when it comes to lenses. As a workaround, you can use an adaptor. Doing so will allow you to use certain Canon lenses on a Sony. The only catch is that this will cost you a few hundred bucks.
Tamron SP 15-30mm f/2.8 Di USD - Sony A Mount
Sony 16-35mm Vario-Tessar T FE F4 ZA OSS
This lens is incredibly sharp. Together with the A7R II, it makes the best lens and body combination. It's the priciest one, sure, but it's definitely worth it.
3. Lighting - Camera Flash
To have a fully-functioning lighting equipment for real estate photography, you will need to get three things. Unfortunately, they don't come in bundles, so you will need to buy them individually.
Good news: there are a plethora of affordable and excellent-quality items to choose from. The only downside is, lighting equipment for real estate photography is prone to wear and tear, so be prepared for frequent replacements.
The majority of real estate photography shoots require small flashes. I recommend against getting Nikon or Canon flashes, because those are really expensive. My top pick is:
You'll need to buy two of these, because one will not be enough to take care of interior lighting issues.
4. A Wireless Trigger
This lighting equipment for real estate photography is essential for syncing flashes off-cam. My top pick is:
- This real estate photography equipment has a 40-meter range.
- You can directly use its trigger to control your flashes. This feature is a time saver! No need to run back and forth your camera to adjust the flash settings.
Here's a crucial thing about this real estate photography equipment: you have to get the correct version. It will be useless if you get one that's not compatible!
While true, the YongNuo lens I've recommended above already has this function, but at only $40, this real estate photography equipment is definitely a worthy investment. Just think of it as getting a really useful extra piece of real estate photography equipment.
5. Light Stands and An Umbrella
You only need one bracketed umbrella as a beginner. You can always rely on white surfaces for bouncing light off.
I recommend getting two light stands. Options for this lighting equipment for real estate photography are both affordable and durable.
This lighting equipment for real estate photography is perfect for transport. It's very compact and easy to carry around.
Anwenk
- This real estate photography equipment is the sturdiest umbrella you can find on Amazon. And it's highly affordable, to boot. You'll definitely want this in your collection, since you can use it to mount both your flash and umbrella together in one light stand.
- Pro-tip: get the 2-pack combo! You'll save more if you do.
This real estate photography equipment is highly cost-efficient. It comes with two 7-inch light stands with a carrying bag. With this kit, no need to purchase a bag separately.
6. A Reliable Tripod
Investing in this next real estate photography equipment is a must. If you're going to spend money on something, let it be this one.
A high-quality tripod will provide you with utmost support during shoots. And if you know how to take care of it properly, this real estate photography equipment will survive for years. Trust me, I had to learn this lesson the hard way. I had to get 4 tripods costing me a LOT of money to realize this!
This real estate photography equipment can handle up to 19.8 pounds of hardware. Don't be so surprised! The body, lens, and geared head alone already weigh 3 pounds.
For a more budget-friendly tripod, I suggest
While I haven't used it yet, I know of other pro photographers who love this real estate photography equipment. They say it's sturdy and reliable, so it may be worth your while to check it out.
7. Geared Head
Apart from the tripod, you also need to get a good geared head. The real estate photography equipment allows you to align your shots, which makes post-production much easier.
This real estate photography equipment is precise, smooth, and durable. Sure, it says "Junior" in its name, but there's nothing mediocre about this real estate photography equipment at all. No matter the architecture or photography work, this geared head is highly reliable.
With that said, don't be fooled into upgrading to its 405 model. It's more expensive, and it won't give you any additional use. Just stick to the 410 Junior, and you're gold.
8. A Shutter Release
It is another critical real estate photography equipment. It allows you to use your camera's shutter function without having to touch it. With this real estate photography equipment, you need not be near your camera to use the shutter. This is ideal especially for shooting dark or poorly-lit interiors where camera shake is a big concern.
You only need a simple shutter release that's either wireless or cabled -- your pick. Don't spend too much on this real estate photography equipment, because you are bound to replace this
with a more impressive tethering capacity anyway. A more state-of-the-art real estate photography equipment is required for more challenging photoshoots such as an architectural painting work.
But, for the time being, this shutter release is more than enough:
- This real estate photography equipment fits all the camera bodies I recommended previously.
- Considering the quality, it's the most affordable product out there today.
9. A Bag That Will Carry Your Real Estate Photography Equipment
As real estate photographers, we are always on the go. As such, it is important to have a sturdy and spacious bag to fit all our real estate photography equipment.
Do not go beyond two bags for all your real estate photography equipment. The first one should carry your expensive stuff. That said, opt for a sturdy case to make sure all your gear is safe. The second one should be used for the cheaper gear and accessories, so a light bag will do. As I have mentioned earlier, if you get the Fovitec lighting kit, you need not get a separate bag.
Do not be tempted to purchase a compact backpack. Sure, they're easier to carry around, but your real estate photography equipment won't be safe in case you drop the bag. Stick with this product instead:
This case comes with wheels so it is easy to transport. More importantly, it's incredibly sturdy!
As for the lightweight carrying bag, any affordable nylon bag will do. Just be sure it's 30 inches in length and comes with a strap. This should not cost over $40.
My Final Thoughts On Real Estate Photography Equipment
There you have it: the 10 real estate photography equipment essentials. Trust me, if you're serious about real estate photography, you really want these gizmos in your collection.
However, if you are on a budget, you do not need to buy all these things in one go. Stretch it out for several months and learn with what you have. Or, you can also check out stores that sell second-hand equipment. You will be surprised with the awesome deals they offer!
On the contrary, if money is not an issue, then, by all means, go ahead and purchase all my recommendations! They are all guaranteed to make your life as a real estate photographer much easier.
The bottom line is, your success in this business will not solely rely on your budget. As long as you have the skill, passion, and willingness to do it, nothing can stop you.
Homiesfoto | Best Real Estate Photo Editing & Virtual Staging Company