Print your own passport photo and save money
Can you imagine that you can take an ID picture or a passport photo all by yourself? It can be weird to download a passport photo app when you do not really need it very often, but it can be economical and intriguing if you can create a passport picture for your own without waiting for the professional photographers.
In this 4.0 era, people tend to do everything on their own with a smartphone and a stable internet. So how can you do it? This article will show you 9 powerful passport photo apps for Android and iOs with detailed information. Check it out!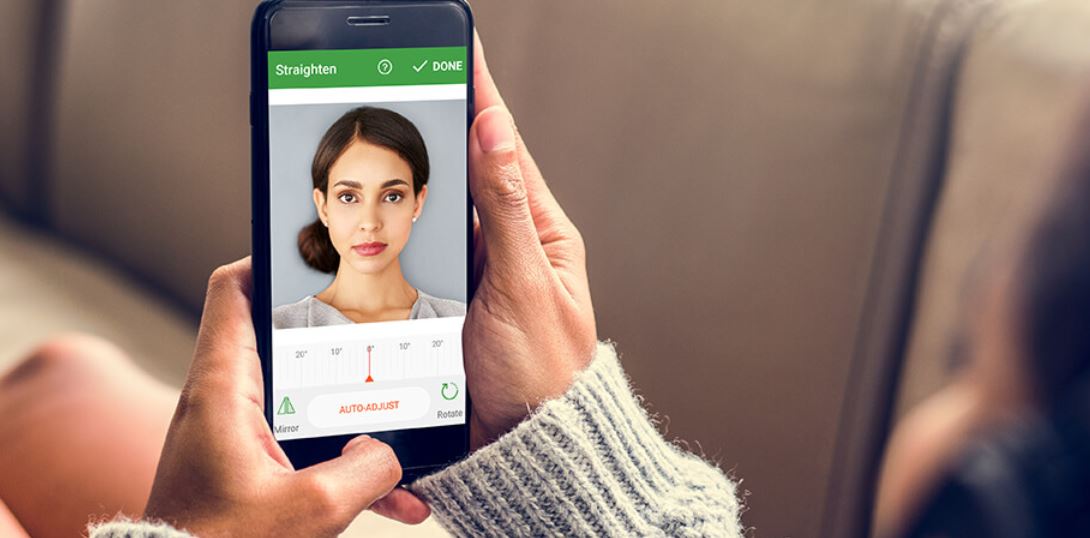 Best passport photo app for iOS
Biometric Passport Photo
Are you looking for getting a passport photo created in just a couple of seconds? With Biometric Passport Photo, you can take standard biometric images for documents that will confirm your identity as quickly as possible.
Advantages
- Have most of the popular templates
Biometric Passport Photo application contains more than 10 templates of popular documents available for over one hundred countries.
- Auto brightness and color correct
Whether your photo is not qualified for criteria due to some defects even though you tried to take it a thousand times, don't worry, all you need to do is just upload the photo to the template and let this app retouch it for brightness or color.
- Easy to print
As for printing, this app offers options: print your images anywhere directly from this application, print immediately with AirPrint support or send the picture file to a place that prints photos off later.
Disadvantages
- Pop-up ads
Biometric Passport Photo app is free of charge so it's not surprising that users can be disturbed by pop-up ads while taking photos.

ID Photo
Advantages
- Country specific resize
The first positive feature of this app is country-specific image sizing. ID Photo has sizes for 14 countries applicable to a wide range of documents such as visa, passport, ID card, CV,…
- Useful tutorials
This app also offers tips and guidelines on how the photo can meet your government's passport photo specs with a camera interface right on the app. The image editing tools of ID Photo allow you to adjust contrast, brightness, sharpening… at your discretion.
- Easy to print
Once you have taken a photo, ID Photo will make it easy to save and print it with an AirPrint-enabled printer.
Disadvantages
- Bugs out sometimes
In some cases, ID Photo would make you disappointed with the wrong size of saved images or printed photos unmatched by the previews.

Photid – AI Passport Photo Booth
We hear about AI and 4.0 revolution everywhere now. And have you ever imagine that we can apply AI for personal documents and legal information? The world, especially developed countries are doing so. But it's not a big deal with Photid – AI Passport Photo Booth.
Advantages
- Advanced technology
With biological recognition technology and artificial intelligence that can identify a person's facial features, this app becomes very powerful when defining a person by photo and assists user to take a photo that will meet all official demands.
- Useful guides
A special grid guides you to get a whole set of different photos raging from black and white, color to different sizes. Fortunately, with a couple of clicks, you can convert your inferior images into the professional one with necessary image settings in the Photid.
This app creates good conditions for users to edit their photos easier than ever. There is no need to select a special background or sitting under proper lighting, you can remove the most complicated background from the photo and change its light later with the help of Photid.
Furthermore, this passport photo app also gives users the freedom to retake it as many times as they wanted.
Disadvantages
Photid – AI Passport Photo Booth gains more and more popularity because of its convenient functions as well as its modernity which is very essential in this era. Up to now, nobody has left any complaints about this app, but Photid still encourages users to read the instructions before using it to optimize all the functions in this modern application.

Passport Photo Booth Creator
As you can imagine, Passport Photo Booth Creator is a full-featured passport photo-taking application which allows you to save yourself plenty of cash and make your casual picture into a passport size photograph with easy to use editing tools.
Advantages
- Versatile
From government IDs, through passport, visa applications, job/study applications, Passport Photo Booth Creator assists users to comply with the size and background requirements with a huge catalog of templates.
- Useful tips
In addition to providing numerous photo editing features, this app also gives users useful tips for having professional photos such as removing glasses, increasing grayscale, replacing your background with the plain white one,… and guides you through the whole process. These pieces of advice will helpful and applicable to the majority of the official documents.
- Print delivery
Last but not least, one unique feature of Passport Photo Booth Creator that should be highlighted is the ability to ship your print order directly to your location for $5.96. The whole process of taking and editing pictures is completely free, but if you want to have your prints shipped to you, it will cost only $5.96, which is much faster and cheaper than a photo store. That's at least nearly $5 in savings rather than in photo studio where services cost 10 dollars and above.
Disadvantages
- Slow print delivery time
According to a recent statistic, Passport Photo Booth Creator has received pretty good ratings and almost no complaint about it. There is a tiny downside is that it takes up to 2 days for printed photos to arrive. But it's no big deal, right? Because even when getting the picture from the photo stores, you also have to wait several days.
Passport Photo Booth is applicable for Android 5.0 and iOS, so feel free to download this powerful passport photo app to enjoy the most comfortable and convenient conditions.

ID Photo Print
The ID Photo print is another excellent application for capturing and manipulating your passport photo by yourself.
Advantages
- Have tips on how to take good pictures
ID photo print provides useful recommendations on how to take a proper picture and make your passport or visa photo meet the requirements set forth.
Once you take the photo, this app offers a few editing features for lining up your eyes and chin at the proper level to perfect your passport photo which you can't do at the store.
It is recommended that you should take your picture with the rear camera on your smartphone rather than the front one to get more high-quality pictures.
- Works well with American documents
ID photo print is specially designed for US residents so if you are American, you don't have to worry about whether your images meet US standards and will be approved or not. This passport photo service will allow you to take the proper picture for your document based on the government's criteria.
- Get reviewed by experts
The unique feature of this passport photo service is the ability to share photos so that real experts will review your pictures to ensure your passport, VISA, job application photos are accurately resized.
- Can print directly from the app
Unlike Passport photo – ID photo application, users can directly print your images from ID PhotoPrint. All you have to do after having your photo completed is to save the file and have it printed off.
It should be noted that this passport photo service also gives you the other options for emailing and sharing your photo so that you can both print it out on your own or get a friend or family member to print out for you.
Disadvantages
- Subpar user interface
ID Photo Print's interface seems rather dated, but according to users' review statistics, it still does the job fine with the clear instruction that takes you step-by-step through the entire process.
- Not a free app
This passport photo editor is not free for the user to install. You will have to make payments via PayPal to get ID Photo Print available, and it offers delivery service for only $6.95 that includes printing.
2. Best passport photo app for Android
Passport Photo ID Maker Studio
Passport Photo ID Maker Studio, or Passport photo Maker, in short, is rated 5/5 by editors around the world and has been downloaded over 5 million times from Google Play. This app can be seen as the most popular passport photo editor for Android providing efficient solutions for a wide range of users from home users to large companies who need to create professional passport and ID photos.
Advantages
- Versatile
With a decent interface, Passport Photo Maker allows you crop pictures for passports, VISA applications, driving licenses and other official documents for over 100 countries worldwide, so you don't have to worry about being denied during the actual application process.
You can adjust your photo to the height and width required by your government so that it looks as if you have taken it in a professional studio.
- Various layouts and features
This passport photo app also provides a great range of available layouts and features that help you to accurately replace the background, level the exposure, increase or decrease the brightness and contrast, etc.
Don't frustrated when you have no idea how to operate this app in the first place, it will guide you step by step to makes your casual picture into a passport size photograph for a quick touch up.
- Supports different file types
Passport Photo Maker also supports JPEG and PNG file formats and multiple printing paper sizes, including 4×6, 5×7 or A4. Furthermore, the customer support team of Passport Photo Maker is responsive and available on a 24/7 basis.
Disadvantages
- Not entirely free
The creating and editing process in Passport photo maker costs you free of charge, but the printing procedure requires users to pay because users have to order prints from Walgreens Photo, Office Depot, CVs or Amazon.
In general, Passport Photo Maker is said to be the ultimate Passport Photo editor offering a great experience for every user around the world.
Passport Size Photo Maker
With the rating point 4/5, Passport Size Photo Maker is a nice choice for those who want to skip the photo studio and do everything straight from a smartphone.
Advantages
- Many templates
Passport Size photo Maker offers a wide range of passport, visa, job photo templates suitable for almost 150 countries. You easily find your country's guidelines for official documents on this app so that you can select the right one without making mistakes during the application process.
- Easy to follow instruction
This passport photo app also provides an easy to use instruction. Allow Passport Size Photo Editor get access to your smartphone's camera, have a finished image of your face on the device and it remains only minor adjustments needing to make to perfect the photo. There is an array of image editing tools ranging from background removal, enhance white balance, saturation, contrast, brightness and shadows adjustments, etc.
After finishing that trimming procedure, you need to save that file and choose for which documents you want to take it, then the magic of the application will adjust it to the desired format.
As for the printing process, this app allows users to print their edited pictures in a single 4×6, 5×7 or A4 paper, or to combine several pictures and print them in A4 format, for instance.
Disadvantages
- Might have some bugs
In some cases, the size of the photo is incorrect or unavailable for some countries. This will lead to misunderstanding or a waste of time for the user to remake their images.
- No direct printing
There is no function of direct printing directly from the application. However, it is possible to use the services of Print Shops or you can send the image file to the email of the printing house or in the photo studio for further service of printing.
In summary, with few bucks for printing materials and a free of charge Passport Size photo Maker application, you have already converted a normal, inferior picture into a perfect passport/ visa photo on your own.
Passport Photo ID
Another excellent and popular passport photo app specialized in the Android system is Passport Photo ID.
Advantages
- Good assistant features, easy to use
Each document has its own requirements, but you don't have to load yourself with a bulk of unnecessary information with Passport Photo ID. Just simply install Passport Photo on your smartphone, take a shot with your camera in a white background and under proper lighting, and then let the app help you.
The number of templates on this app is suitable for 100+ countries, so you just have to type your country name on the search engine to find out your photo size as well as other standards of your government agency. The photos will comply with all the state requirements and all you have to do is just follow the instructions and get professional-looking result.
Disadvantages
- Not the best quality photos
With the rating point of 3.5/5 by current users, this app still has its own drawbacks such as the average quality of saved photos, watermark appearing on the edited photo.
3. Best passport photo app for both Android and iOS
Passport Photo – ID Photo
With the rating of 4.5/5.0 by editors, Passport photo – ID photo received a ton of compliments about the convenience as well as a wide range of functions of this app. Instead of equipping yourself with specialized tools for ID photos like lens, cameras, and complicated software, this free app allows you to easily create, edit and print your visa, CV, workbook, ID, passport photo in seconds as if you have your photos done in the photoshoot.
Advantages
- Good template library
Passport photo - ID photo contains passport templates from over 100 countries, that's the reason why it's so-called the universal passport photo apps for iOS.
You can probably find your countries' template on the list provided by the app.
- Built-in background remover.
The background color adjustment function allows you to accurately erase the background of the image and add professional color tones behinds without wasting time preparing the background before shooting.
- Can be either taken from the camera or loaded from the album
But users are encouraged to take the picture right on the app where there's an instruction on how to line your face up properly, so it's almost fool-proof.
- VISA or any ID photos with a few multi-touch gestures with your fingers.
- Easy to use
Disadvantages
- No tutorial
Passport photo – ID photo seems to be very easy to use, however, they should properly create a user guide that provides comprehensive instruction for users to operate this app without having to find out all the buttons all by themselves.
- Can't print directly from the app
Another drawback of this free passport picture editor is that it can not print images directly from the app, but it supports printing on printers with AirPrint technology. You need the approved paper size (3×4, 4×4, 4×6 or A4 ) for your printer or adjust the print size right on the app if needed.
If this is not possible, you can send your images to the nearest photo lap so you can have a perfect – cropped passport picture within a few seconds. The passport photo will be automatically printed slightly larger so that you can cut it out piece by piece.
To install Passport photo – ID photo, just go to the App Store or Google Play and have this app on your device.

Our verdict
To sum up, we hope that this article somehow broadened your knowledge about which android/ iOS app is suitable to take a passport photo. And in case you need to take pictures urgently but do not have extra money for the services of a professional photographer, this article might offer some solutions for you to do it right from home and from your smartphone!
Check out our other articles:
11 Best Mouse For Photo Editing In 2020 And How To Choose
[Fast Download] 135 FREE Camera Raw Presets 2020 (GDrive)
Homiesfoto - Real estate photo editing and virtual staging